The Learning Continuum is provided by NWEA as part of their MAP Growth assessment system.
Learning Continuum:
Makes connections between specific skills and RIT scores to identify what students are ready to learn and to guide instructional planning.
Is structured by goal areas (such as Literature for Reading and Geometry for Math) which are organized based on state or Common Core standards.
Each column in the Learning Continuum includes the skills within a block of 10 RIT points. If a student has a RIT score of 205, then the skills within the 201-210 block are the skills that student is ready to work on in class right now.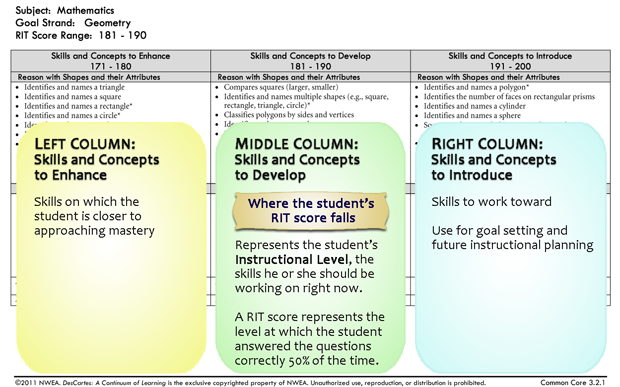 The Learning Continuum can be used for:
Planning small group instruction, including flexible grouping
Goal setting
Identifying areas of strength and areas of concern for each student
Creating centers, homework, or other assignments based on skills needed for each student
Providing students, parents, and aides with specific skill sets for a student to focus on
To Access the Learning Continuum:
Log in to the NWEA reports website where you access your students' MAP scores
Select "View Reports," then "MAP Growth Reports"
From the list of MAP Growth Reports, select "Learning Continuum"
There are two ways to view the Learning Continuum:

"Class View" lists the blocks of learning statements vertically with students who scored within each block listed on the side.
"Test View" lists the blocks on learning statements horizontally (similar to the image above) and shows the full range of RIT scores.
Additional Resources:
Material from the Learning Continuum is provided by courtesy of NWEA and may not be republished, rewritten, or redistributed. All rights reserved